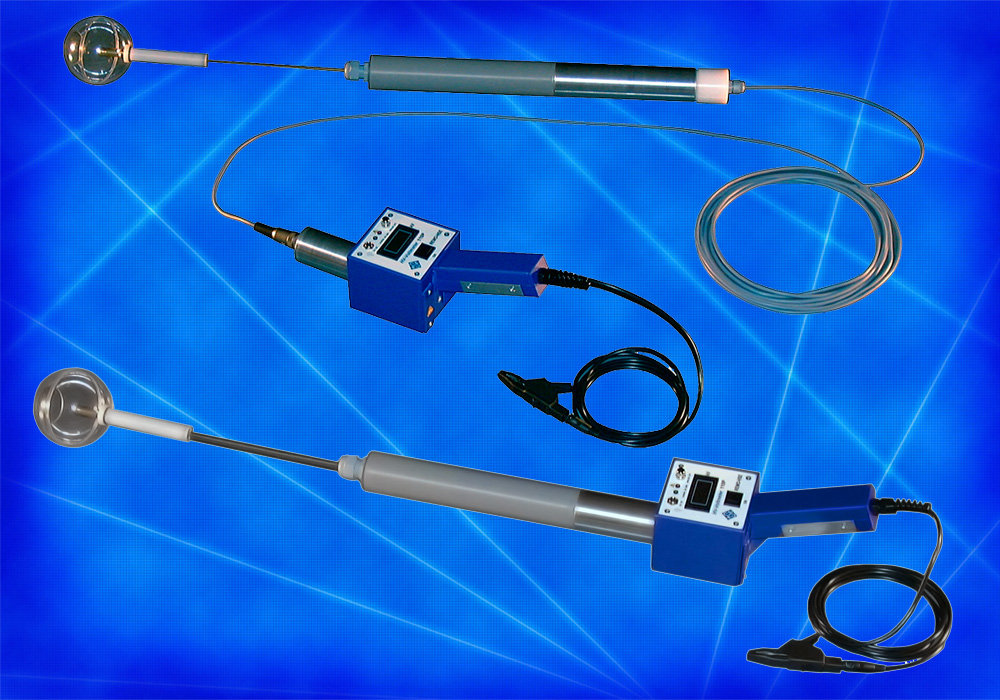 High Voltage Handheld Meters
HV-Voltmeter 11P HV-Voltmeter 21P HV-Voltmeter 51P HV-Voltmeter 110P
Features
Easy to use
Measuring range depending on the design ±10kV, ±20kV, ±50kV,±100kV
Pulse proof measurement input
Space charge shielding to reduce spray losses during the measurement
High internal measuring resistance ensures only a low load on the test object
Battery or mains operation
Special Features
Measuring probe and instrument can easily be unscrewed and then operated spatially separated via an adapter
Analogue output provides external signal processing
Display elements
3½ digit digital display with automatic polarity detection and battery symbol
Integrated earth detector indicates a possible defective or missing earthing of the meter
Measurement accuracy
High measuring accuracy even in the case of superimposed ripple voltages with amplitudes up to 5%
Resolution depending on the model 0.01kV or 0.1kV
Accuracy better than ±(2% + 2 Digits)
Mechanical data
Device consisting of measuring instrument, high voltage probe, lance, different tips and space charge screen
Total length of measuring instrument and high voltage probe depending on the model 470mm or 580mm
Weight 1kg or 1.1kg depending on the model
Download
Data sheet (en)
Data sheet (de)
Short-term and long-term measurement with one measuring device
This high-voltage measuring device can be used both as a hand-held measuring device for quick control of the applied high voltage and as a permanently integrated measuring device for constant monitoring of the high voltage. This is made possible by an adapter with which the measuring head and measuring instrument can be operated spacially separated from each other and the fact that battery and mains operation are possible. A typical application is the quality monitoring of manufacturing and / or cleaning processes in
Electrostatic coating systems
Electrostatic precipitators at machining centers
Air purification systems with electrostatic precipitators
Heating systems with electrostatic precipitators
But this measuring device is also a useful companion during the design and development phase of devices and systems with DC high-voltage sources.
Display and interface
The voltage value is shown on a 3½-digit LCD display with polarity detection and can be read out via an analog 0 ... ±100mV interface. A red LED lights up if the integrated earthing detector has detected a possibly defective or missing earthing of the measuring device. Furthermore, a battery symbol appears on the LCD display if the charge level is too low. The charging of the battery is signaled by a green LED.
Configuration and models
The HV voltmeter of the 110P series consists of a measuring instrument, a measuring probe, a measuring lance and various tips. In addition, the measuring device comes with a space charge shield to reduce spray losses, which can significantly falsify the measurement result - especially on pointed corona electrodes. Of course, the high-voltage measuring input is pulse-proof and the internal measuring resistor is chosen so large that the test object is only subjected to a very low load during the measuring process. The measuring device has a 3½ digit digital display with automatic polarity detection, two LEDs and an analog output for external evaluation of the high-voltage measured values. We currently offer the measuring device with the following measuring ranges: ±10kV, ±20kV, ±50kV and±100kV.
Interested?
Then contact us without obligation. Click here to send email: