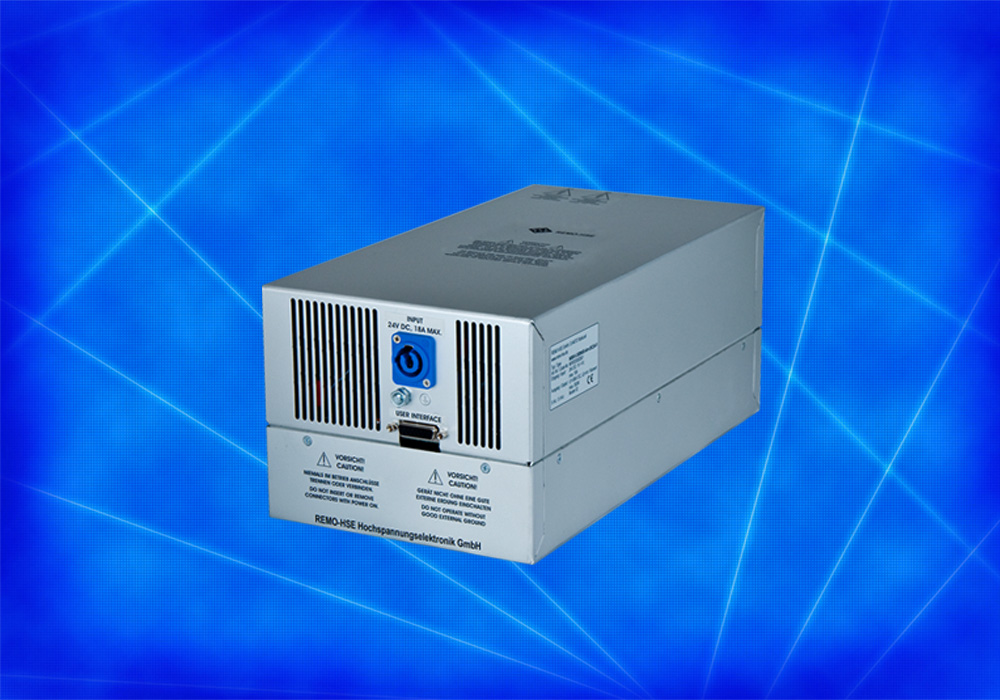 MXR Series
High Voltage Generators for X-Ray Tubes
Features
Currently up to 50kV with one or two outputs
300W output power
24V DC input with reverse polarity protection
Efficiency typically 87% at rated values
Controls and Monitoring
Adjustment and monitoring of voltage and current via analog interface
Over-temperature, over-voltage and over-current status messages
Filament current demand and voltage and current monitoring
Optional Features
Adjustable floating or ground referenced filament supply
Automatic transition from constant voltage to constant current control and vice versa
Protection
Input voltage reverse polarity protection
Over-voltage and over-current limitation on high voltage output
Over-temperature limitation
100% short-circuit-proof against ground on high voltage output
Mechanical Data
Aluminum case
Approx. 7.5kg
Classification IP20
Cooling vents and internal fan
Download
Data Sheet (en)
24V DC Input and 300W Output Power
The MXR-S-300N50-6m-DC24 unit is a compact-sized 300W high voltage module which operates from a 24V DC input and generates up to 50kV with positive or negative polarity. Typical applications include
Powering X-ray tubes from various suppliers
Crystal Inspection
Mineral Analysis
Low Ripple and High Stability
The high voltage ripple is less than 50V peak to peak and the line regulation less than 60V for a 1V change in the 24V supply. The static load regulation is less than 60V from no load to full load and the dynamic load regulation less than 3kV (within 200ms recovery to within 1% of the previous voltage setting). As far as the output current is concerned the load regulation for a 10% to 100% change of rated load and the line regulation for a 1V change in the 24V supply is less than ± 4µA. The temperature coefficient ist 100ppm/°C over operating temperature range and the drift is 0.2% of rating over an 8 hour period after 30 minutes warm up.
Internal DC Filament Supply
There are two versions of the MXR series which are especialy designed for X-ray tubes:
MXR-S-300N50-6m-DC24-FFD incorporates an adjustable integrated floating filament supply for negative polarity.
MXR-S-300P50-6m-DC24-GFD is equipped with an adjustable integrated ground referenced filament supply for positive polarity.
The maximum voltage of the filament supply amounts to 5V DC and the supply operates up to 3.7A. The filament current is regulated by internal beam control loop and is limited by beam current demand and/or filament current demand.
Analog Interface
An anlog interface provides remote control and monitoring of voltage, current. In addition, over-temperature, over-voltage and over-current status messages are available via potential free relay contacts (24V DC, max. 1A).
Interested?
Then contact us without obligation. Click here to send email: