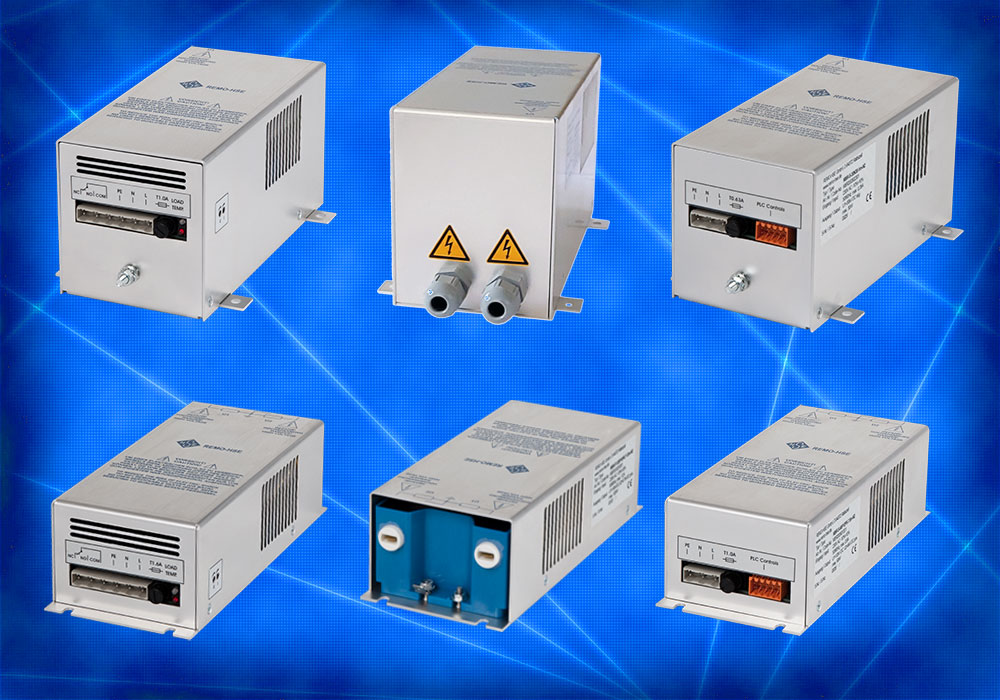 MSR Series
High Voltage Modulesup to 120W and 30kV
Features
Different voltage classes up to 30kV with one or two outputs
Automatic transition from constant voltage to constant current control and vice versa
Model depending 30W, 60W, 90W or 120W
Model depending 24V DC, 115V AC or 230V AC input
Controls and monitoring
Adjustment of voltage and current with potentiometer (MSR-P series)
Remote control and monitoring via analog interface; 0-10V DC corresponds to 0-100% of the maximum nominal value (MSR-S series)
Two LEDs indicate U/I operation and over-temperature (MSR-P series)
Special features
Protection
Over-voltage and over-current limitation
Over-voltage, over-current and over-temperature shutdown
High voltage output 100% short-circuit-proof to ground
In case of a spark, the module turns off for approximately one second and then ramps up automatically
Mechanical Data
Aluminum case
Approx. 0.7 to 1.5kg (depending on the output voltage)
Classification IP20
Cooling vents
Download
Data Sheet S-type (en)
Data Sheet P-type (en)
Data Sheet 24V-type (en)
Data Sheet S-type (de)
Data Sheet P-type (de)
Data Sheet 24V-type (de)
Very Compact and Robust
The MSR series was developed for many industrial applications in which output voltages of up to 30kV DC and output powers of up to 120W are required. In these systems, the module is usually integrated in compact control cabinets and either controlled via a PLC or even set only once in the factory. Since the module is not only extremely compact, but also represents a cost-effective solution, it is particularly suitable for
Electrostatic
Precipitators
Air purification
Heating systems
Ionization
Of course, the module can also be used in other applications such as high voltage tests, production processes, chemical processes and control systems and as laboratory equipment.
Protection
All MSR power supplies are equipped with over-voltage and over-current limitation and over-voltage, over-current and over-temperature shutdown. The high voltage output is 100% short-circuit-proof to ground. In case of a spark the power supply will turn off for approximately one second and will then ramp up automatically.
Analog Interface (MSR-S) or Potentiometer Adjustment (MSR-P)
Our high-voltage modules (MSR-S version) usually have an analog 0 ... 10V interface, via which voltage and current can be controlled and monitored. However, since there are still applications that use a high voltage module in standalone mode, we also offer a MSR-P version here, in which voltage and current are simply set using two potentiometers and two LEDs signal the U / I operation and the shutdown in the event of overtemperature.
Undervoltage Monitoring and Potentiometer for Setting the Voltage (MSR-U)
In this case the module signals a drop in the output voltage below 70% and switches off at 20% of the output voltage for approx. one second - a new start takes place automatically. This largely reduces the risk of arcing. The output voltage can be set between 70% and 100% of the nominal voltage using a potentiometer. .
Further Options and Alternative Designs
A second high voltage output: e.g. for electrostatic filters that require ionization and collector voltage in a fixed division ratio.
An extended interface for the MSR-S series with ON / OFF, temperature and spark monitoring.
Further options on request.
Interested?
Then contact us without obligation. Click here to send email: