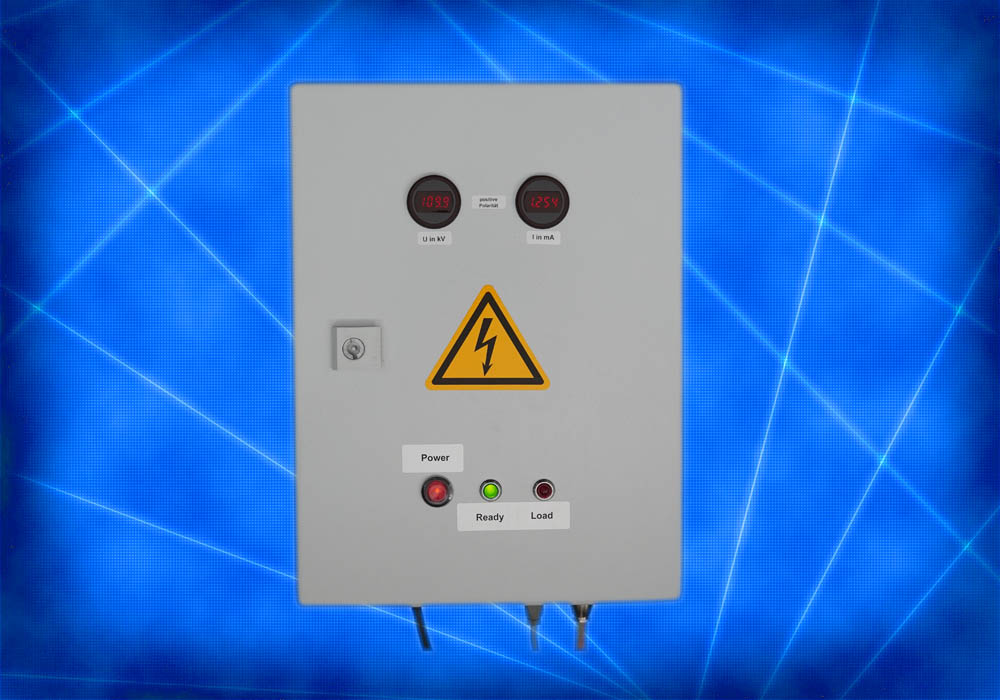 CMR Special Series
High Voltage Power Supplieswith Higher Ingress Protection
Features
Different voltage classes up to 120kV with one or two outputs
Automatic transition from constant voltage to constant current control and vice versa
Model depending 30W, 60W, 120W, 200W, 400W, 750W or 1500W
Model depending wide range or 230V AC input
Controls and Monitoring
Remote control and monitoring via analog 0-10V DC or 4 to 20mA interface
Digital display for voltage and current
Signal lights for status messages such as cabinet turned on, high voltage and load status
Internal LEDs signal the status of high voltage, load and temperature
Special Features
Soft start
Spark sensing and monitoring
Adjustable U-I-characteristic
STASEI 2 mains socket with fuse holder and a 9-pin flange socket with protective cap as interface
Protection
Over-voltage and over-current limitation
Over-voltage, over-current and over-temperature shutdown
High voltage output 100% short-circuit-proof to ground
In case of a spark, the module turns off for approximately one second and then ramps up automatically
Mechanical Data
Sheet steel powder coated cabinet
Approx. 7 to 28kg (depending on the output voltage and power)
Classification minimum IP53
Internal forced air circulation with fan above 200W and active cooling with fan in housing above 750W output power
Customized Design of the CMR Series
This CMR special series was triggered by customers looking for a 120kV high voltage power supply with 150W output power for integration into existing equipment. A clearly legible digital display for voltage and current, a STASEI 2 mains socket with fuse holder and a 9-pin flange socket with protective cap as interface were requested. In addition, it should be possible to set and monitor voltage and current at either 0 to 10 VDC or 4 to 20mA. Of course, this CMR special version is also available with 30W, 60W, 120W, 200W, 400W, 750W or 1500W continuous power and output voltages up to 120kV. Also, these high voltage cabinets are suitable for use in a variety of industrial applications
Electrostatic
Precipitators
Air purification
Heating systems
Ionization
Of course, the power supply can also be used in other applications such as high voltage tests, production processes, chemical processes and control systems and as laboratory equipment. A particular feature of the modules is the ability to adjust the
voltage-current characteristic
.
Protection
Like the standard CMR cabinets this power supply is equipped with over-voltage and over-current limitation and over-voltage, over-current and over-temperature shutdown. The high voltage output is 100% short-circuit-proof to ground. In case of a spark the power supply will turn off for approximately one second and will then ramp up automatically.
Digital Dispays, Signal Lights and Analog Interface
Two digital displays make it possible to read voltage and current directly on the device. The power switch light indicates that the device is switched on, a green signal lamp indicates that the actual output voltage is at least as high as 90% of the set value and a red signal lamp lights, if the actual output current amounts to minimum 90% of the set current for approximately five minutes or more than eight (other possible factory settings 10, 20 or 40) sparks per minute. The power supplies are controlled via a PLC. It comes with an analog 0 to 10V or 4 to 20mA interface to control and monitor output voltage and output current and signals high voltage ready. In addition, status messages like over-temperature are also output via internal LEDs.
Interested?
Then contact us without obligation. Click here to send email: